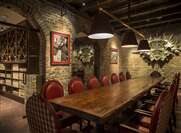 Brennan's offer the ultimate dining and wining experience. The restaurant first opened in 1946 and today offers 8 enchanting dining rooms, each filled with New Orleans architecture and beneath, a wine cellar.
The restaurant serves authentic French cuisine, with chef Slade Rushing creating menus which are rooted in Creole traditions and are bolstered with contemporary New Orleans influences. Brennan's offers a massive range of wine including Domaine Ponsot Corton-Charlemagne Grand Cru, from France and hosts many wines from its home land the United States, as well as some from Ireland, Spain and Hungary.
Brennan's old-world sophistication and hundreds of options of wines from around the world creates a distinctive and sophisticated backdrop for a most outstanding dining experience.