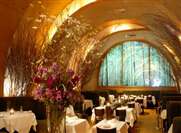 "Nicely presented, very well curated and carefully selected," was the verdict of the World's Best Wine Lists judges on the wine program at Manhattan's Butter Restaurant.
Fitting onto just two pages, the Butter list works by seeking out personal favorite wines in a number of regions rather than offering deep verticals or trying to be complete. And so we have Doisy Daëne's textbook Bordeaux blanc or La Rioja Alta's superb 904 Gran Reserva Rioja 2004 as well as intriguing choices such as NateReady Phantasi Roussanne from Dudee in Oregon and Biniagual Sant Gall Monto Negro Blend from Mallorca.
With a simple star system informing diners of the organic, biodynamic, or sustainable status of each wine, and with a broad range of prices both by the bottle and by the glass, this is a list that is very easy to browse.
And it makes a fine fit for the fine modern American cooking, based on seasonal, market-bought ingredients, practiced by executive chef Alex Guarnaschelli.