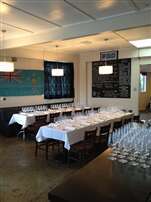 Café Polo presents a refined list of local and international wines, tailored to suit the style of food served. Head chef Adrian Green, hailing from Surrey, England, channels the restaurant ethos of exceptional food in a bistro dining atmosphere with a focus on local produce and cuisine based on the principles of 'slow food'. Café Polo's wine and beer menus change regularly, providing frequent customers with something new and exciting to explore with innovative cuisine and wine pairings.
The international wines primarily draw from France and Spain, and at the time of writing included Gerard Fiou Sancerre, France, 2014; and Acústic Cellar Carinyena/Garnatxa, Monsant, Spain 2014, with cherry-picked options from Austria, the US, and Italy. There are plenty of local options, including a range of Riesling – dry Mondillo Riesling from Central Otago, 2015; off-dry Pallister Estate Riesling, Martinborough, 2013; and medium Fromm Riesling Spätlese, Marlborough, 2014. A bin end and one-off list provides a unique alternative, and at the time of writing this featured barrel fermented Sauvignon Blanc from Hawkes Bay (2014), and Jean-Luc Colombo Terres Brulées Syrah, Cornas, North Rhône, France 2010.
Judges commented that the wine list was tiny, yet "pretty vast by-the-glass", at an affordable price point, and "fun".