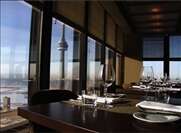 Located in a beautiful spot on the banks of the Chattahoochee River in Atlanta, Georgia, Canoe offers beauty from the kitchen to match the setting.
Head chef Matthew Basford offers a highly creative menu that brings together unusual ingredients with unusual flair in dishes such as she-crab soup, jumbo lump crabmeat, and cream Sherry, or Enchanted Springs rainbow trout, sunchoke and goat cheese ravioli, and almond pesto.
And there is beauty, too, on what the judges at the World's Best Wine Lists 2015 called "a very clear, well thought-through, beautiful, and appetizing" wine list.
Managing to squeeze in a great many grape varieties and star producers into its focused, medium-sized selection, highlights range from lesser-spotted treats such as the top-class Portal white blend of Vinos Pinol in Catalonia's Terra Alta region and João Portugal Ramos's Lima Loureiro from Vinho Verde, to big name California from Shafer and Stag's Leap and fine Burgundy from Domaine Dujac and DRC.