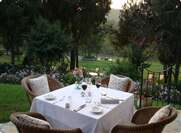 Set in the Turkish countryside in Ulupelit some 45 minutes from Istanbul, the Sen family's luxury boutique hotel Casa Lavanda has been a leading light on the Turkish culinary scene since opening in 2010.
Featuring cooking from Italian-trained chef Emre Sen, the son of owners Feryal Bodur and Ahmet Sen, the menu is described as "refined Mediterranean" with "worldwide and Turkish" influences in dishes such as Balikesir-Gönen "Kivircik" lamb chops, pistaccio and wild mushroom risotto.
The excellent wine list also has a strong local flavor, thanks to its extensive set of wines from the rapidly evolving Turkish scene, which takes in such luminaries as Corvus, Doluca, Kayra, Sarafin, and Urla Sarapçilik and grape varieties such as Kalecik Karasi, Bornova Misketi, and Bogazkere along with the more familiar international names.
Complemented by a nicely compiled set of French and Italian wines, and a smattering of bottles from the New World, Lavanda's list is comfortably one of the best in Turkey.