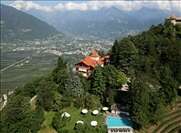 With its balance of modern and classical technique, high-quality ingredients, and impeccable presentation, chef Luis Haller's cooking is a Michelin-starred attraction on a par with the mind-blowing mountain views at Castel Fragsburg.
But this luxury hotel high up in the Dolomites in Merano, Sud-Tirol, is equally revered for its wine list, which has at its center a superb selection of local wines. Elena Walch, Lageder, J Hoffstätter, Kellerei Terlan, Franz Haas…the list is a compendium of Alto-Adige luminaries, and equally strong with its graceful Pinot Nero and Lagrien reds as its aromatic whites (dry, sweet, and sparkling).
The locals are joined by a judicious pick from the rest of Italy and further afield, including a number of fine Rieslings from Germany, Austria, and Alsace, an extensive range of Super Tuscans, and a sprinkling of Bordeaux, Burgundy, and Barolo on a concise but balanced list.