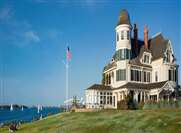 Described by the judges at the World's Best Wine Lists 2015 as an "appetizing, stylish, and clear with great choices," the Castle Hill Inn list benefits from a team that, in the words of its beverage curator, Shawn Westhoven, "approach[es] our drink menus with the same effort and thoughtfulness that our chefs use to craft their menus."
It's a list that balances America with the best of Europe, mixing big name producers with rising stars. And so the sparkling wine list lines up Westport Rivers Farmers' Fizz from Massachusetts alongside Domaine Carneros and Schramsberg; the Champagne features both Henri Goutorbe "Special Club" Grand Cru and Louis Roederer Cristal; and the by-the-glass program roams from Austria's Fred Loimer and Sancerre's Pascal Jolivet to Napa's Trefethen Family Vineyards.
Clearly arranged by variety and tailored to the eclectic, regularly changing, seasonal menu of head chef Karsten Hart, Castle Hill Inn's is an exemplary fine-dining wine list.