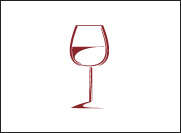 Cathay Pacific
Hong Kong-based airline Cathay Pacific is leading the way in exploring the wine world with passengers by sourcing fine wines from traditional as well as up-and-coming wine regions, which are paired to match the variety of in-flight cuisines.
The usual criteria for selecting high-quality wines apply during the sampling process, while additional factors such as the impact of high altitudes on people's palettes and cabin humidity are also taken into consideration.
The airline serves around 80 different wines from the major wine-producing countries that include France, Italy, Austria, South Africa, Australia, the United States, and New Zealand.
In addition to the regular listings, promotional wines are offered throughout the year for premium passengers, while the selection of wines change depending on their availability and harvest times.