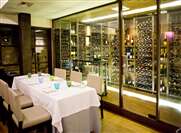 A key figure in the Peruvian culinary avant-garde, chef Virgilio Martínez is renowned for the attention to detail he applies to everything at his innovative Central Restaurante in Lima.
From bottling his own water ("filtered, ozonated, and purified using reverse osmosis") to cultivating his own urban kitchen garden, to the complex, artful composition of the dishes he serves on his ever-evolving tasting menus, Martinez is very much the perfectionist.
That rigorous philosophy is also applied to a wine list overseen by wine director Gregory T Smith and chef sommelier José Miguel Burga. Shortlisted for the Best Wine List in South America for its breadth and depth of international choices, the Central list was also presented with a World's Best Wine Lists Jury Prize for its superb collection of South American wines—a specialism that fits with another of Martínez's defining philosophies: to incorporate the local wherever possible.
The continent's two big guns, Argentina and Chile, dominate, with a particularly fine selection of Malbec from the various sub-regions of Mendoza and the northern Salta region. But there is also space for Uruguay and the emerging wines of Peru, in a list that, like the restaurant, is bold and pioneering.