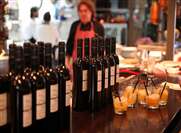 Chef Victor Gloger is at the helm in the kitchen at Chloélys, preparing the classical French and Mediterranean cuisine that has put the restaurant in Ramat Gan at the forefront of Israeli fine.
Gloger's inventive menu (with signature dishes such as tuna tartar on avocado and chili salsa, cucumber vinaigrette, and yuzu popsicle) is joined by one of the best wine lists in the region.
The Israeli collection is particularly striking, showcasing the countries red and whites, and including a number of older vintages from top producers such as Clos de Gat-Sycra Merlot 2003, Golan Heights Katzrin 2004, Pelter Cabernet Sauvignon-Shiraz 2002, and Margalit Cabernet Sauvignon 2002.
These are joined by impressive collections of Bordeaux, Burgundy, Tuscany, and Piedmont that culminate in the Chloélys' Collection: a set of mature and rare bottles that includes such gems as Aldo Conterno Granbussia Barolo Riserva 1989 and Domaine Leroy Romanée-St-Vivant Grand Cru 1969.