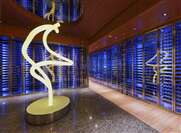 Chop Steakhouse is a fine dining experience in the heart of Tokyo.
The menu is created around dry and wet-aged Certified Angus Beef cuts—some available exclusively at Chop.
Along with world-class service and cuisine, the restaurant also hosts regular wine events with visiting producers from around the world.
The selection at Chop is comprised of premium US and international wines.
It is carefully curated to maintain a balance between classic and modern producers, while staying current on the latest trends of organic, natural, and biodynamic wines.