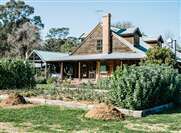 With its rural setting in the heart of the Hunter Valley, wine is inevitably an important part of the experience at Circa 1876.
And as a restaurant that prides itself on seasonality and locally sourced ingredients, the local wines of the Hunter Valley are prominent on a list that the judges at the World's Best Wine Lists 2015 described as "superbly curated."
A range of some of the best examples of one of Australia's most distinctive wines, Hunter Valley Semillon, is a particular highlight, featuring several vintages of the Tyrrell's Vat 1 from 2007 to 1997. But the selection of Hunter Valley Shiraz is no less impressive, with vintages of Brokenwood Graveyard Shiraz going back to 1989, and of Thomas The Kiss to 2002.
These local favourites are joined by a cherry-picked selection from Europe and other regions of Australia by head sommelier Andre Retamero, on a list perfectly in tune with the clean, modern dishes on executive chef Trent Barret's menu.