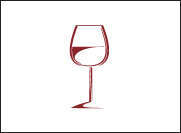 Simplicity, elegance, and a distinctly modern locavore sensibility are the key distinguishing elements of the philosophy at North Beach San Francisco's Coi.
On its single nightly menu, "based on the best ingredients in our area" and which is "always changing according to what is available," you might find such arresting combinations as new harvest potatoes, cucumber, coastal greens, and flowers; chilled yellow squash soup with saffron, lime, and nasturium; and blueberries and violet with dried plum and sweet milk sauce.
The wine list is very much in keeping with the kitchen's ethos, a collection of classical stars and cutting-edge modern producers from California and Europe.
It starts with a superb by-the-glass program that makes use of the Coravin system to offer fine wines such as Château Gruaud-Larose 1995, Domaine Daniel Rion Echezeaux Grand Gru 2011, and Cain Five Cabernet Sauvignon Blend, Napa Valley 2009, and also includes a pair of wine flights, one European and one Californian, each priced at $250, and featuring a selection of top-flight producers.