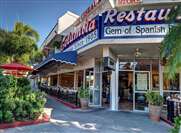 Founded in 1905, Columbia Restaurant in Tampa has a claim to be Florida's oldest restaurant. It also has a claim to having the state's finest wine list.
As the judges at the World's Best Wine Lists 2015 said, it's a list that is "incredibly comprehensive in Spain" as befits the restaurant's Iberian cuisine. And the choices from the peninsula are impeccable, covering dozens of DOs and styles, from the big players of Ribera del Duero and Rioja, to the best of Galicia and Catalonia and emerging regions such as Yecla and Jumilla, and featuring many older vintages, including a number of flights from single producers.
Clearly presented with plenty of explanatory notes on Spanish regions, grape varieties, and producers, the Spanish selection is complemented with a strong range of Californian and South American wines, in a list that offers plenty of scope for matching such authentic Spanish dishes as pollo Riojana or paella campesina.
www.columbiarestaurant.com