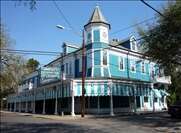 After 134 years of service, Commander's Place has earned the right to that much-overused term, institution. Today, the Victorian building at the heart of New Orleans' Golden District, houses a restaurant with a loyal following for what it describes as chef Tony McPhail's "modern New Orleans cooking meets haute Creole" cuisine, its fun atmosphere, and its thoughtful, wide-ranging wine list.
The initial impression for any guest—and The World's Best Wine Lists awards' judges—on opening Commander's 124-page list is its inclusive feel: it opens with a selection of 60 bottles for under $60, divided by style, and ranging from Oregon's Adelsheim to Greece's Thymiopoulos, which would make a fine short international list in its own right.
But these are just the appetizers in a long, engaging and well-priced list of New and Old World classic producers and rising stars, where inspired matches for such dishes as crawfish beignets or pork belly and oysters would not be difficult to find.