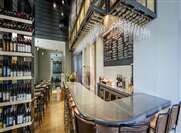 Latin for 'completion of the working day', Compline is downtown Napa's premier gathering spot for tourists, locals, and the wine trade.
It is a wine bar, restaurant and retail shop—a space where you can drink and learn about world-class wines, tuck into a delicious meal, and purchase newly discovered bottles to take home.
Compline boasts all the laidback Californian accoutrements: a concrete bar, an indoor–outdoor lounge with comfortable sofas, and a 26-seat patio made for relaxing with a glass in hand, Napa-style
The 400-selection wine list, called "thrilling" by World's Best Wine Lists judge, Luciana Girotto, focuses on Napa and nearby favorites and classic bottles from across the world.
Compline offers a selection of retail wines, available day and night; and several weekly wine classes for beginners and seasoned pros, led by co-owner and Master Sommelier, Matt Stamp.
The 90-seat restaurant is open daily for lunch and dinner, featuring a menu rooted in Napa cuisine—simple, shareable, seasonal, and locally sourced.