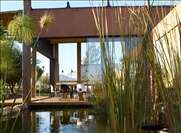 Many restaurants pay lip service to the ideas of seasonality and localism, and many of the winners at the World's Best Wine Lists awards make good on that promise with both their food and their wine. But very few take the concept as far as Baja California's Corazón de Tierra.
Featuring a menu that changes every day, drawing exclusively on ingredients available in the local markets and from local suppliers, it is entirely of its place. And that unwavering commitment to the tierra shapes the wine list every bit as much as it does such creative dishes as mushroom, duck egg yolk, and onion ashes; or fennel, potato puree, and Necua acorn.
Featuring 103 labels, the wine list at Corazón de Tierra is exclusively composed of wines from the local scene in Baja California. And it doesn't lack for variety. The reds, which account for around two thirds of the selection, roam from Vino de Piedra, Tempranillo-Cabernet to Madera 5, Nebbiolo, while the Sauvignon Blanc and Chardonnay-dominated whites are joined by a spread of a dozen rosés and a pair of sparkling whites in a bold, courageous selection, that fits perfectly with the restaurant's ethos.