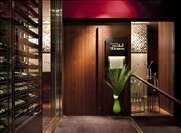 The name above the door is as close to a guarantee of quality as it is possible to get in the gastronomic world: the Troisgros name has been synonymous with innovative French fine dining for three generations at the three Michelin-starred Maison Troisgros family restaurant in Roanne, France.
The guarantee also covers wine, of course, with both Maison Troisgros and Michel Troisgros at Tokyo's Hyatt Regency Hotel earning a three-star award from the judges of the World's Best Wine Lists awards.
As with the restaurant back home, the list at Troisgros' Japanese adventure is at its heart a concise and considered edit of the best French producers. It is particularly strong in Burgundy, and does a fine job with Bordeaux and the Rhône. But it also gives respect to the rest of France, not least in its selection of wines from the great modern producers of the Roussillon such as Gauby, Olivier Pithon, and Roc des Anges.