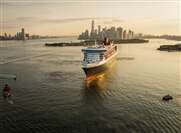 If you're going to put your wine program in the hands of a single supplier, best make it one of the best in the business. And in choosing to partner with the exemplary British merchant Corney & Barrow on its network of cruise ships, that is exactly what Cunard has done.
C&B is known in the UK for being the exclusive importer of some of the world's most rarified producers such as Domaine de la Romanée-Conti, Champagne Salon, and Pingus, each of which makes an appearance on the starry opening pages of the Cunard list, which is devoted to Corney's pick of "premium wines." Also featuring in this collection of great estates are Super Tuscans Sassicaia and Tignanello, Bordeaux's Latour and Petrus, and California's Dominus, among many others.
But the Cunard/C&B selection doesn't only cater to the luxury of the market, and there are many more affordable but high-quality selections on a wide-ranging list that spans the globe and all price levels from $30 to more than $1,000 a bottle.