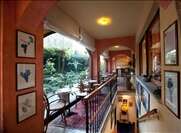 Some wine lists dazzle with their creative selections of wines by the glass, others with the way they scour the world for the best bottles, and some by their funky presentation and hip choices.
The wine list at Piedmont's Da Felicin does none of these things. As straightforward and lacking in fuss and glitz as the unpretentious hotel and restaurant that it serves, it is the opposite of cosmopolitan. But, still, somehow it thrills.
Without notes or explanation, the list just gets on with its objective: Assembling great vintages of the best producers in the local area to match the refined traditional menu offered by Nino and Silvia Rocca at this Monforte d'Alba hotel. An A (Anna Maria Abbona) to V (Roberto Voerzio) of the Rocca's favorite Barolo, Barbaresco, Dolcetto, Arneis, and Barbera producers, with a range of wines and vintages from each. Like the menu, it's simple but delicious and profoundly rooted in its environment.