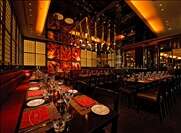 Famed for its highbrow gourmet burgers and superbly executed classic French bistro dishes, Singapore's DB Bistro Moderne, like all the restaurants in New York-based French chef Daniel Boulud's burgeoning empire, is also a destination for its superb wine program.
Catholic in taste, but discriminating in its choices, the wine list at DB features gems from all four corners of the vinous world. This is immediately apparent in the strong by-the-glass program, where a pair of Austrians (Huber Grüner Veltliner 2012; Markowitsch Pinot Noir 2011) line up with the graceful Whispering Angel Provence rosé of Château d'Esclans, a Sherry quartet from Lustau, and Tokaji from Patricius, among many others.
The bottle list covers similar ground: strong in classic Bordeaux, Burgundy, Piedmont, and Tuscany, but also in Kiwi Pinot (Ata Rangi, Ostler, Borthwick), and featuring fine lesser-known bottles such as the Swiss Syrah and Pinot Noir of Simon Maye and a pair of Koshu wines from Japan's Grace.