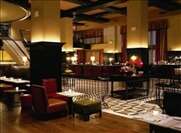 It's not the length of the "Vini al Bicchieri" (wine by-the-glass) list that earned Manhattan's Del Posto a spot on the shortlist for the Best By-the-Glass Wine List in North America. It's the quality, variety, and maturity of the choices on offer at this superb Italian collaboration between star chefs Mario Batali and Lidia Bastianiach, and their restaurateur partner, Lidia's son Joe.
For those of us whose budget simply doesn't stretch to a full bottle of Quintarelli's 1995 Amarone or Querciabella's Burgundian-inspired Tuscan white Batàr 1998, then the 3oz or 6oz servings available of these and more than a dozen other top Italian wines is an accessible way to discover what all the fuss is about.
These finer choices are supplemented by a range of more accessibly priced (but no-less-interesting) by-the-glass selections such as Romeo del Castello Etna Rosso Allegracore, and Kuen Hof Kaiton Riesling Alto Adige. Is this what all by-the-glass programs will look like in the future, asked our judges?
They hope so. But the full-bottle list is equally fun: A wine lover's tour of the length of Italy, with a diversion into the best grower and Grande Marque Champagne, matching a menu of exquisitely rendered Italian classic dishes.