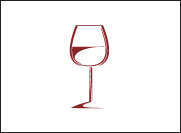 Now with five restaurants around Hong Kong—Spasso, Divino Wine Bar & Restaurant, Divino Patio, Carpaccio, and Goccia—The Divino Group is a specialist in Italian dining in the Administrative Region.
At the Divino Wine Bar & Restaurant, chef Michele Senigaglia produces Milanese-style sharing dishes, sometimes with an Asian influence, such as layered maguro tuna tartar and avocado scented with lime and ginger or herbs-marinated duck breast in carpaccio with spring salad and citrus segments.
A great deal of thought has clearly gone into a medium-sized, manageable list that is, not surprisingly, big on Italy. The judges at the World's Best Wine Lists 2015 were particularly impressed by the amount of information available to diners, with vintage, grape variety, geography, and ratings from critics such as Robert Parker given for each wine, and with a clear and informative guide to wine pairings—from crab with unoaked Chardonnay to Châteauneuf-du-Pape and Zinfandel with peppered steak.
Choices from North and South America, Australia, New Zealand, France, Lebanon, and Spain join the fine range of Italians, which runs from northern Gewürztraminer to southern Nero d'Avola, covering all points in between.