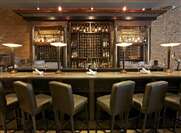 The mission at Calgary's Divino Wine & Cheese Bistro is clear: to bring the flavors and style of New York's traditional and thriving bistros to Western Canada.
It's a mission that starts in the kitchen, with a range of classic bistro dishes given a smart modern update featuring the best local ingredients by chef John Donovan and executive chef Alistair Barnes. And there's real flair in these dishes, such as St Canut suckling pig with crisp fresh bacon, potato pave, haricot vert and wild mushroom ragu, or chicken scaloppini with grilled fennel, sunchokes, cured black olive and tarragon orange source. As expected from the restaurant's name, the cheese selection is exquisite, from creamy Roquefort to firm and nutty Manchego.
The mission continues on the wine list, which is excellently curated, exhibiting "some of the most qualitatively interesting wines". It is a list that roams widely around the world, offering both classic names and newcomers, whether it's a Slovenian sparkling wine from the excellent Movia, fine German Riesling from Dönnhoff, or top Burgundy from Méo-Camuzet, but also finding plenty of space for the best of the burgeoning Canadian scene.