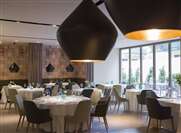 Döllerers Genusswelten truly is a rare find—a family-run business spanning three generations.
You'll find it in Golling, nestled at the foot of the Austrian Alps.
Andreas Döllerer is well known for his Alpine cuisine and the restaurant is a member of Les Grandes Tables du Monde.
The cellar reflects a decades-long devotion to wine, serving 25,000 bottles across 2,500 labels, also offering several verticals and one-of-a-kind of large formats.
The sommelier team works to Head Sommelier Alex Koblinger—the only Master Sommelier and Sake Samurai in Austria and six-time winner of Sommelier of the Year.
Döllerers is built on maintaining the highest international standards; showcasing passion for the job; professionalism; and cordiality.