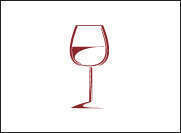 A chic, glamorous hotel in a chic, glamorous location: Hotel du Cap-Eden-Roc-Roc is, as the hotel's website rather immodestly, but correctly, puts it, a "legend" of the Côte d'Azur.
A playground of the rich and famous, attracting film stars, artists, writers, and political leaders for more than a century, today it houses a five-star luxury experience, that includes one of the south of France's best-loved gourmet restaurants, Eden-Roc.
Executive chef Arnaud Poüette presides over the kitchen with head chef Olivier Gaiatto and pastry chef Lilian Bonnefoi, and between them they conjure up clean, pure flavors based on high-quality ingredients in dishes such as pan-fried farm-raised veal chops with spring onions, and prawn, thinly sliced, tangerine condiment and lemon caviar, black garlic petals and pickles.
Head sommelier Xavier Dinet's wine list accompanies the food menu with similarly stylish, unfussy flair, in a clean, stylish classical compilation, where the wines are presented with engaging, and useful information.
Among the many highlights, is a well-chosen Champagne collection, which features mature vintages and a variety of cuvees from leading Grande Marques and growers, including such chic, glamorous choices as Salon 1988 and Jacquesson La Cuvée Millésime 1997.