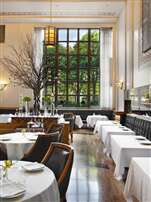 Eleven Madison Park is a fine dining restaurant located in the heart of New York City.
The restaurant overlooks one of the most beautiful parks in Manhattan, Madison Square Park, and sits at the base of a historic Art Deco building on the corner of 24th Street and Madison Avenue.
Located here since 1998, in 2017 it underwent a full-scale renovation and redesign.
The restaurant has been owned by Chef Daniel Humm and Restaurateur Will Guidara since 2011 and during that time it has evolved considerably, both in food and in experience.
Today, the restaurant offers an eight to ten course menu in the main dining room, but guests can also visit the bar for a more abbreviated tasting menu, some light snacks, or simply for a cocktail or glass of wine.
The wine list itself was praised as "outstanding" by wine consultant and sommelier Luciana Girotto.
As part of the Champions' League since its 2015 Wine List of the Year win, Eleven Madison Park has enjoyed an illustrious position, competing each year with the world's premier lists.
This year it not only took the prize for Champions' League best Champagne & Sparkling Wine List 2019, but Champions' League World's Best Wine List 2019 too.