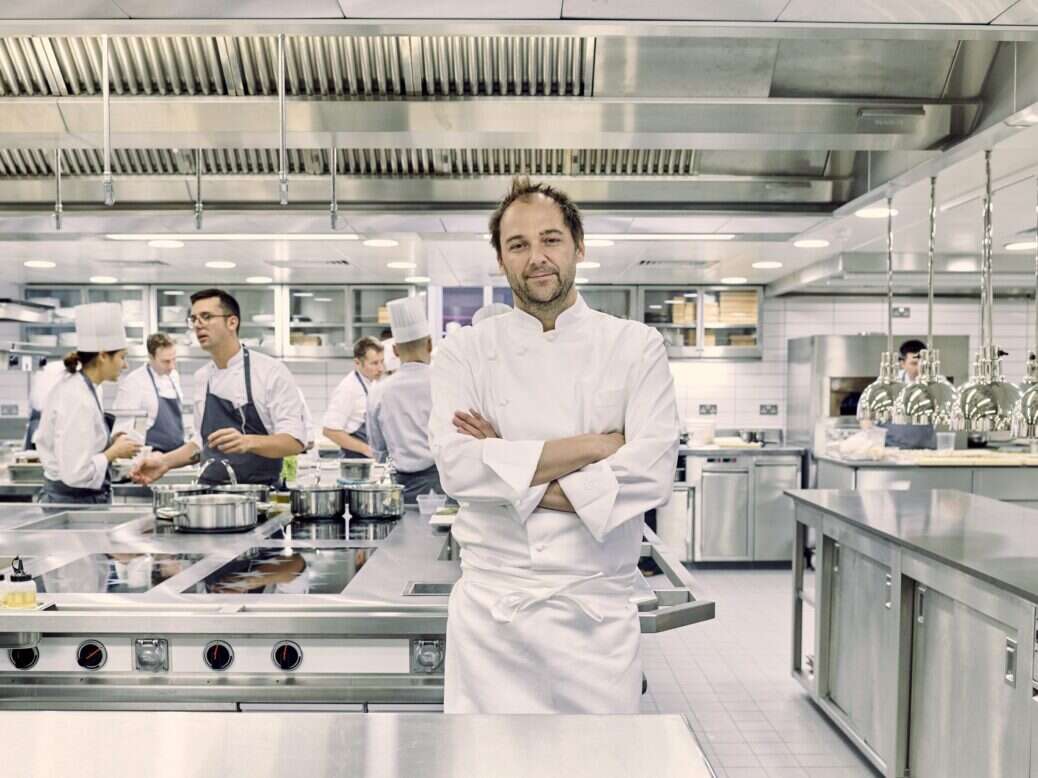 As one of New York City's most highly regarded white tablecloth establishments, Eleven Madison Park, goes vegan, Jim Clarke asks what the change will mean for its World's Best Wine List-winning wine program.
Restaurants, after a year or more of closures, operating as retail outlets or take-aways, are returning to life. But the industry is not what it used to be, and the same is true for individual restaurants. Many chefs and owners have used the past year to reconsider their priorities and the concepts behind their operations, and this month chef Daniel Humm (pictured above) announced that one of New York City's most highly regarded white tablecloth establishments, Eleven Madison Park, is returning as a vegan restaurant.
The reasoning behind the change lies with the nature of farming; in a National Public Radio interview, Humm said his primary reason for the change was the unsustainable nature of meat production. And Humm has allowed for a handful of exceptions to make their way into the kitchen—honey, for example, will still be available for those who choose to indulge in the restaurant's expansive tea program, for example. The same is true for the cellar; wines fined with egg whites, for example, have also been granted an exemption. "Concerns about the provenance of ingredients do not extend to the wine cellar, no," says wine director Watson Brown, "and we aren't adjusting the program in the response to the menu change."
Good news for wine fans
That's good news for wine fans. Eleven Madison Park's list—a repeat winner in World of Fine Wines' World's Best Wine Lists Awards—embraces about 5,000 selections, and Brown says the cellar did not undergo the pandemic-induced, cost-cutting pruning that many endured. He does expect that guests may order from the list differently; perennial pairing "musts" have fallen away—white Burgundy for whatever iteration of lobster was on offer, or a Northern Rhône Syrah for the lavender and peppercorn crusted duck breast. Many wine drinkers seem to associate vegetarian dining with white wines, perhaps because the kinship between red wine and red meat is so ingrained; Brown says the tasting menu may disabuse diners of this assumption. In looking at the arc of the tasting menu, "There are in fact more red wine-oriented courses on this menu than ever before," Brown says.
Brown's outline of his plans belies an underlying assumption that such a seemingly radical change in menu concept must necessitate similarly rigorous adaptation to the wine program. There are, however, relatively few models at the fine dining level that indicate what that change would involve—Joia, in Milan; Paris's L'Arpège; and a handful of others.
Wine in vegan fine-dining: No longer an afterthought
Many of the earliest successful vegetarian or vegan restaurants, as well as many of the vegetarian restaurants that have earned Michelin stars, feature Asian cuisines where going meatless has strong traditional roots—Indian cuisine most notably. That model has spread to embrace Thai and Vietnamese-centric menus as well, and recently vegetarian Mexican cuisine has become increasingly common. In these cases, wine has often been an afterthought at best, with little or no tradition of wine drinking or pairing to build upon.
Many advocates of the first wave of vegetarian restaurants embraced vegetarian dining not for the issues of sustainability chef Humm cites, but for reasons of personal health, and alcohol played little or no role in the "my body is a temple" aesthetic. Unfermented juice was more common than the fermented kind. As vegetarianism has grown, that mindset has been tempered, but it seems many of the chefs and restauranteurs behind vegan and vegetarian dining have conceptual reasons for choosing that path, and their wine lists often reflect similar or adjacent priorities. On their website, Plant, in Asheville, North Carolina, describes their wine program thusly: "Sustainable, Organic, and Biodynamic Methods/Wines chosen for their unique attributes and their production methods/Wines unfined or filtered only with plant-based methods/Wines that drink well with any dish/Wines from the old world/Wines from the new/Plant wines." Further afield from concerns about the means of production but still overtly themed, Dirt Candy in New York City only features wines from women-run wineries, and not far away the newly opened Cadence, features vegetarian southern cooking accompanied by wine from Black winemakers.
Plant-based beverage program
For some restaurants, the emphasis on plant-based dining spreads its tendrils into the beverage program, which then favors cocktails over wine; fresh-pressed juice, house-made tonics, and mixologist-prepared infusions take precedence. No one is denying that the grapevine is a plant; the focus, however, falls on highlighting what the kitchen and by extension, the bar, can do with plant-derived ingredients "à la minute." The increased popularity of non-alcoholic cocktails has reinforced this approach as well.
In terms of wine programs, perhaps the vegetarian restaurant "type" that most reflects what Brown is aiming for at the revived Eleven Madison Park is the vegetarian "comfort food" restaurant or bistro – the one offering, perhaps, a vegetarian burger, vegetable lasagna, and a handful of other dishes that hold up a mirror to non-vegetarian dining while leaving the familiar, recognizable setting untouched; the place vegetarians take their non-vegetarian friends because they know the latter will feel so at home that they let down their guard and allow themselves to enjoy the food. There are many, some good, some less so, just as with "regular" bistros, but the best, like Greens in San Francisco, provide a wine list that matches both the menu and the ambiance. Concept is placed in the background, or at least the diners' experience takes priority over it, as it ultimately does at Plant, Dirt Candy, or any restaurant operating at a high level. Similarly, Humm has no intention of abandoning the white tablecloth experience by "going vegan," and a wine list with depth and range is part of that experience regardless of the reasons behind the changes taking place on the menu.