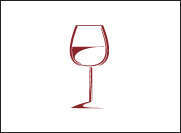 When you have a short wine list, you have to make every bin count: a useful discipline for sommeliers, and one that is very much on display at Melbourne Northside's Estelle Bistro.
Despite running to just a handful of pages, it manages to excite and inspire by blending classic European regions and Australia but without picking the same old obvious names.
And so the Champagne selection features Gosset and Bruno Paillard as well as the ever-excellent Roederer; "international" whites take in natural Chenin from the Loire (Marc Angeli La Lune), a Godello (by Telmo Rodriguez) and an Albariño (Abadia de San Campio) from Galicia, and a Chablis from Jean-Claude Bessin; and the "Australian reds" section contains numerous stars from the local Victorian scene.
It's a consummately stylish selection to pair with chef Scott Pickett's fresh and ingredient-focused cuisine, which features dish such as Wagyu rump and cheek with mushroom ketchup, and barramundi, lentils, and ham hock.