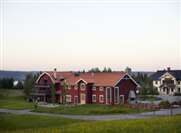 Faviken is one of two Swedish restaurants to finish up on our shortlist for The Best Champagne & Sparkling Wine List. Is that because, as senior judge Francis Percival pointed out, the Scandinvian alcohol-buying "monopolies are particularly strong with grower Champagne?" Maybe, but even if you are dealing with a single supplier, it still takes a certain flair to pick out the best bottles and assemble them in the way that the team at Faviken have done.
The Champagne list at Faviken "isn't long," said senior judge Andrew Jefford. "But I love their embrace of growers and rejection of Grandes Marques bar a few really well-selected ones." That "embrace" draws in the likes of Egly-Ouriet, Jacques Selosse, Jérôme Prévost, Bérèche, and Laherte, among many others, on the grower side, with Salon, Krug, and Louis Roederer representing the Grandes Marques.
Beyond fizz, Faviken offers what Jefford called a "clean, clear, succinct list of classics," with "good verticals for each." From Burgundy's Coche-Dury to Roussillon's Domaine Gauby; from Barolo's Giuseppe Mascarello to Marina County's Sean Thackrey, Faviken's is one of Sweden's—and Scandinavia's—best-constructed lists.