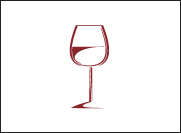 Lidia Bastianich's critically lauded Manhattan restaurant continues to impress diners with its refined modern take on traditional Italian cuisine.
Executive chef Fortunato Nicotra's menu offers a range of classic dishes designed to showcase the top-quality ingredients, from sautéed calf liver, polenta, and farro grain to roasted cured duck breast, roasted fennel, and rhubarb agrodolce.
And the wine list has a similar mission, containing, in the words of the judges at the World's Best Wine Lists 2015, a "quite wonderful Italian focus" that runs the gamut of the country's modern wine scene from the orange wines of Friuli to the great reds of Tuscany and Piedmont to the emerging stars of the south.
On a clearly and simply arranged list of many stars, the judges were particularly taken with the "vini da meditazione" section, which features fine and rare bottles such as Quintarelli and Dal Forno Amarone della Valpolicella and Enrico Serafino, 1939 Passito Erbaluce from Piedmont. And the Italians are complemented by a neat but well-chosen selection from across the winemaking world.