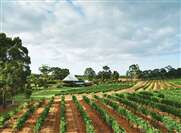 Chef Nathan Johnson heads up the kitchen at Sydney's Felix, which is conceived as a "romantic homage to the quintessential French brasserie."
There's plenty of creativity within those constraints on a menu that offers citrus-cured kingfish and watermelon tartare with feta avocado and cucumber as well as tripe provençal with brioche crumbs and parsley.
And there's imagination, too, on the wine list where France is very much center stage, with the classic regions paired with similar wines from the southern hemisphere.
That might mean Domaine Weinbach and Albert Boxler sharing the billing with Grosset and Pyramid Valley in the superb "Alsace" selection, while the deep selection of Burgundy is accompanied by an array of fine choices from Tasmania, Victoria, and Auckland, among many others.
With a neat selection by the glass that includes a Swiss Chasselas (by Domaine de Beudon) and Château La Nerthe Châteauneuf-du-Pape, Felix has a wine list that puts many French brasseries to shame.