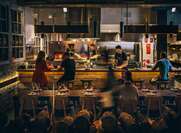 Head Chef Lennox Hastie's fascination and focused approach is behind Firedoor's cooking exclusively with flames, using no gas or electricity.
Two wood-fired ovens, three grills and a wood-burning hearth bring the action that unfolds in the open kitchen.
Firedoor partners with farms and suppliers to celebrate the very best ingredients of the day.
Specially aged meat, bespoke vegetables and a live fish tank govern the daily à la carte and eight-course chef's menu.
A thread of smoky, mineral freshness melds the wines with what you find on on the plate.
Be the wine minimally tampered with or conventionally handled, poise and tension bind colors, regions and styles in a celebration of joyful drinking.
As with the food, the drinks menu is ever changing.
Firedoor's wine list is composed of an abundance of mineral-driven, local and internationally sourced, artisan-produced and minimal-intervention wines.