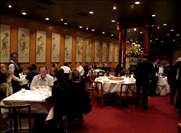 Opened by restaurateur Gilbert Lau in 1975, and with current executive chef Anthony Lui in place for almost 20 years, Flower Drum deals in highbrow, authentic Cantonese cuisine based on local seasonal ingredients, and with a signature dish of Peking duck.
Equally celebrated for its impeccable service as its cuisine, the Flower Drum also features one of Australia's best wine lists, a deep, diverse, but not overwhelmingly enormous collection of both local and international wines.
It's a cosmopolitan list where the Côte-Rôtie of Patrick Jasmin and René Rostaing sits side-by-side with Heathcote's Jasper Hill; where great Western Australian Cabernet blends such as Cullen Diana Madeline and Leeuwin Art Series lead into the Bordeaux classed growths; and where Burgundy greats such as Ponsot and Rousseau share space with top Victorian Pinots from Bass Philip, Mount Mary, and Paringa Estate.