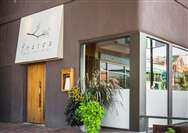 A neighbourhood Italian restaurant in Boulder Colorado with a passion for the food of Friuli-Venezia Giulia, Frasca is also home to a superbly original and detailed wine list that really captured the imagination of the judges. Given a Jury Prize in 2017, Frasca is establishing itself as a titan of the wine world.
In the words of senior judge Francis Percival, it is a "beautiful, beautifully crafted list," while fellow judge Alder Yarrow has previously summed it up as "incredibly educational, very well curated, and beautifully presented. It has great depth where it needs to have it—if you want Nebbiolo then we've got it! And it's the vision of a sommelier, the work of someone who knows and loves wine who just happens to be running an Italian restaurant." This year, Yarrow echoed his sentiment, commenting that it is "one of America's most distinctive and visionary wine lists".
Master Sommelier and owner Bob Stuckey, aided and abetted by co-owner and Head Chef Lachlan Mackinnon-Patterson, invites his customers to take a delicious educational tour of Italian wine, with the help of imaginative categories such as "low grip, high pleasure" and "black and blue" and a run of excellent wines. Frasca is a true original.