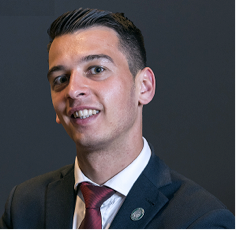 Zareh Mesrobyan has been named the winner of the Gaggenau UK Sommelier Competition and will represent the UK at the Gaggenau Sommelier Awards 2018 in Beijing, China.
Focused on discovering young, and talented sommeliers, the first Gaggenau UK Sommelier Competition took place on the 23rd July at the Gaggenau flagship showroom in London. The highly talented candidates Luca Luciani from Locanda Locatelli, Tamas Czinki from Northcote and Zareh Mesrobyan from Andrew Fairlie demonstrated their expertise whilst impressing judges with their attitude and wine knowledge.
Luca, Tamas and Zareh showcased their abilities in front of an expert judging panel during 5 challenging rounds that included blind tasting, spot the mistakes, answering wine related questions, food and wine pairing along with service role plays. Members of the jury included Craig J Bancroft MI, Managing Director at Northcote, Richard Billett, Managing Director of Maisons Marques et Domaines UK and Darius Sanai, Editor in Chief and Publisher of LUX magazine, Conde Nast International and Le Pan.
Richard who has spent his whole professional career in the beverage industry, when discussing the sommelier competition commented "A good sommelier will combine technical skill and knowledge with strong interpersonal skills to develop rapport with the customer, put them at ease and enhance the dining experience. In doing so, they will prove to be a commercial and reputational asset to the business. I am therefore very pleased to be involved with the Gaggenau UK Sommelier Competition, which recognises and rewards excellence in the field of wine service."
After Zareh Mesrobyan was declared the winner, Darius Sanai commented, "The art and science of being a sommelier is changing fast, with an array of new wines on the market, evolving consumer tastes, and competition from apps and online sources. Yet there is nothing like the personal touch of a great sommelier and it is exciting to see a new generation evolve to rise to the challenges and stimulate diners for decades to come. Kudos to Gaggenau for supporting this noble trade through this competition and may there be many more—it was great fun to judge, and I am in awe of the candidates' knowledge!"
Craig Bancroft said of the competition, "I am delighted to be involved in selecting the best representation for the UK in the Gaggenau Sommelier Awards 2018. Taking such a professional approach to the selection means that the candidates are better prepared and will have a superb chance of success on the worldwide stage."
Zareh Mesrobyan will be heading off this year to Beijing in October. He will compete in the Gaggenau Sommelier Award 2018 against other winners from China, France, South Africa, Sweden and Switzerland. The winner of the Gaggenau Sommelier Award 2018 will receive official status as a global Gaggenau cultural ambassador.
For further information, please send e-mail to communications.uk@gaggenau.com