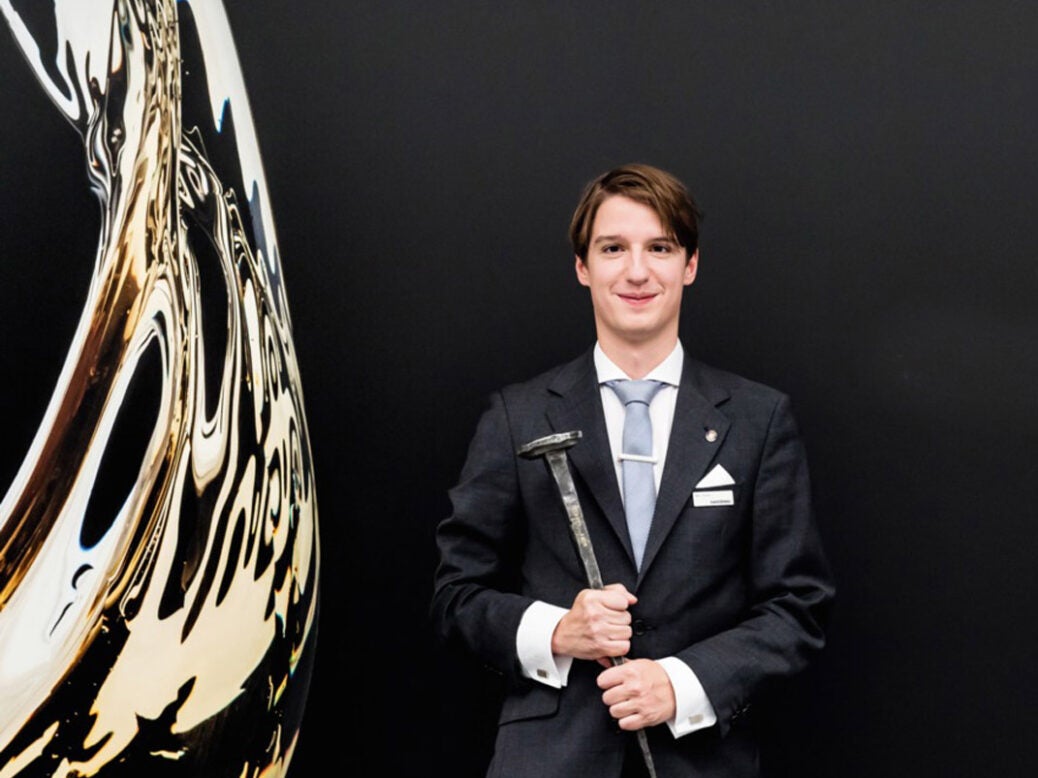 The World of Fine Wine chats with Marc Almert, Head Sommelier at Hotel Baur au Lac, about his inspirations, the key to creating a wine list and the rarest wines he's ever tasted in our exclusive interview.
How did you find your way into the world of wine and spirits?
Even at school I knew I wanted to go into the hospitality industry. I always loved traveling, meeting people from all over the world and learning foreign languages. At 17 years of age I started training in a hotel in my home city, Cologne. I soon fell in love with wine and other beverages and was lucky to have mentors who furthered my passion and skills, taking me along to tastings, trips and even a day at the harvest in the Ahr Valley.
Once I finished my training I was certain I wanted to be a sommelier full-time, and managed to find a great head sommelier, who taught me all the tricks of the trade in a lovely, classic Michelin-starred restaurant in the Rheingau region. As well as Riesling, I also learned a lot about viticulture there, as the vineyards and winemakers were so close. It was also there that I started competing, before I took my first job as a head sommelier shortly afterwards.
To me, the Sommelier profession is so intriguing and fun for many reasons: you take care of people, you never stop learning, you work in a dynamic industry, there are trends to discover; and at the same time lots of events, back of house, storage, Excel spreadsheets and staff training to take care off; whilst spending your free time traveling to some of the world's most beautiful and interesting places – what more could you want?
What do you think makes a good sommelier?
As a side note­, this question was actually asked in essay format during the semi-finals of the ASI Best Sommelier of the World 2019 contest. It is also a question on which one could greatly elaborate, as a good sommelier is defined by many different things.
In short:
To be responsible for the service of wine, but also all other beverages (such as beer, spirits, cocktails, tea, coffee, sake) and of course also all other products consumed in a classic restaurant, i.e. food, cheese, cigars, etc.
To ensure they stay well informed and keep their beverage program interesting, they should travel, read and taste a lot, and keep in close contact with producers from diverse regions.
Within a restaurant, a sommelier is a team player, coach and teacher for those around them; an entertainer, host and source of information for their guests, and of course, a reliable and well-organized business partner for their company and suppliers.
Do you think that more people are entering this industry and why do you think that is?
To me, the wine industry in general has gained appeal and is becoming more global. Wine is talked about more than ever before, and many people want to continue their private quest for new grapes and regions in a professional capacity.
Speaking just about sommeliers though, sadly we currently lack enough people to enter the industry and train. As with all professions in the hospitality sector, people are scared off by the working hours and other aspects of the jobs. Thus I believe we as people in the industry need to do our utmost to make the jobs as attractive and fair as possible—perhaps by changing long-established customs, such as shift plans, and the perception of the sommellerie in the world.
You won the Gaggenau Sommelier Awards in 2016. What did this mean to you?
It was one of the first international competitions I took part in, and as with any international event I was greatly intrigued by the sommeliers from other countries that I met there. Furthermore, the ceremony in Vienna was deeply immersed in other craftsmanship cultures (cuisine, interior design, coffee, music); blending many things I love.
The main prize was a training session with the head judges, Annemarie Foidl (President of the Sommelier Union Austria) and Serge Dubs (Best Sommelier of the World 1989). The training took place in Tuscany—including a nose workshop at a parfumeur atelier—and thanks to the knowledge passed on by these two coaches I was able to change my approach to preparation, timing of service and tasting when preparing for the competitions that followed. I will never forget Serge, after quite a technical tasting, reprimanding me to "Parle-moi du vin!" and stay truer to my personal impression of the wine, rather than hiding behind a too academic approach.
How did you feel when you were announced as the winner of the ASI Best Sommelier of the World 2019?
There is a lovely close-up in the video of the final that shows my primary emotion in the moment: disbelief. To have attained this title on the first attempt, and furthermore so early on in my sommelier life, is an incredible honor and surprise that defies words.
Are there any particular wine regions or countries that have inspired you most or most recently? How did they inspire you?
There are many outstanding wine-producing countries. To name just two that have inspired me recently:
In 2016 I had the chance to take part in the Wines of South Africa Sommelier Cup. Part of the trip was a one-week tour of several regions and wineries. To witness the sheer beauty of this country and the dynamism of the wine produced there; but especially the energy of the people that are shaping the industry right now, in spite of the difficult history that lies behind them, touched me deeply.
I have lived in Switzerland for two and a half years now. It's one of those wine-producing countries with a high per capita consumption but little production; its outstanding wines are often overlooked in the global market as not much gets outside our borders. However, when one immerses oneself in this huge array of (indigenous) grapes, styles and climatic zones, and sees the tiny vineyards and micro-wineries, one can be nothing other than intrigued and fascinated. It is a great pleasure for me to showcase this unique wine-producing country in one of our tasting flights at the restaurant, Pavillon in Zurich.
What interesting wine trends have you seen in 2019? Have you discovered anything new?
Thanks to the wine industry becoming more global, we see a resurrection of former classic regions and grapes re-entering the global scene. In particular, certain indigenous grapes from Italy, Portugal and Greece are hitting shelves and restaurant lists across Switzerland and Germany—and delivering lots of unexpected surprises.
Naturally, there is still the ongoing focus on both organic and biodynamic wine growing, and customers are still keen on discovering more and more Rosé.
For me personally, one of the developments I am trying to keep a close eye on is English sparkling wine, which seems to be a fast-growing and very pleasant category.
What are your bottles of choice at the moment?
Summer is approaching fast and the days are getting warmer. Having trained as a sommelier in Germany, crisp, acidic whites with depth are close to my heart. Not only Riesling, but also many other grapes and styles from across the world.
As well as this I am intrigued by lighter reds, often those made from indigenous grapes from several countries.
And—as I guess is the case for many sommeliers—a warm day off is a perfect excuse to open a great bottle of bubbles, be it Champagne, Sekt, Cava or…
What is the best bottle of wine you've ever tasted? What is the rarest wine you've ever tasted?
I've been very lucky to have the chance to taste many fascinating wines throughout the last decade, and I hope there will be many more occasions to come. It would be impossible for me to choose the best bottle, as different wines have unique characteristics, strengths and an appeal which makes them stand out on their own.
In many of the restaurants in which I have worked, the cellar held wines of great maturity, and there were others brought in during special events. The rarest wines I have tasted are probably verticals from the beginning of the 20th century, from first-class producers from both Burgundy—such as Domaine de la Romanée-Conti—and from Bordeaux—such as Château Latour. Tasting bottles like this is always a memorable experience as one is literally drinking history and imagines the path these bottles took over the decades.
What goes into creating an award-winning wine list in the Hotel Baur au Lac?
In 2019 the Baur au Lac and our sister company, the négociant, Baur au Lac Vins, will celebrate their 175th anniversary. Therefore we have long-established trade links and friendships with wineries and merchants across the wine world, as well as a stock of mature wines, which help create our wine list.
To me, it is a culture that keeps evolving: the dedication, curiosity and capacity to travel the world with our team to scout for fascinating wines keeps the list up to date. It should be noted that the main incentive to do this is to please our guests and offer them a great dining experience, not to win awards. We work for the guest, not the wine list per se.