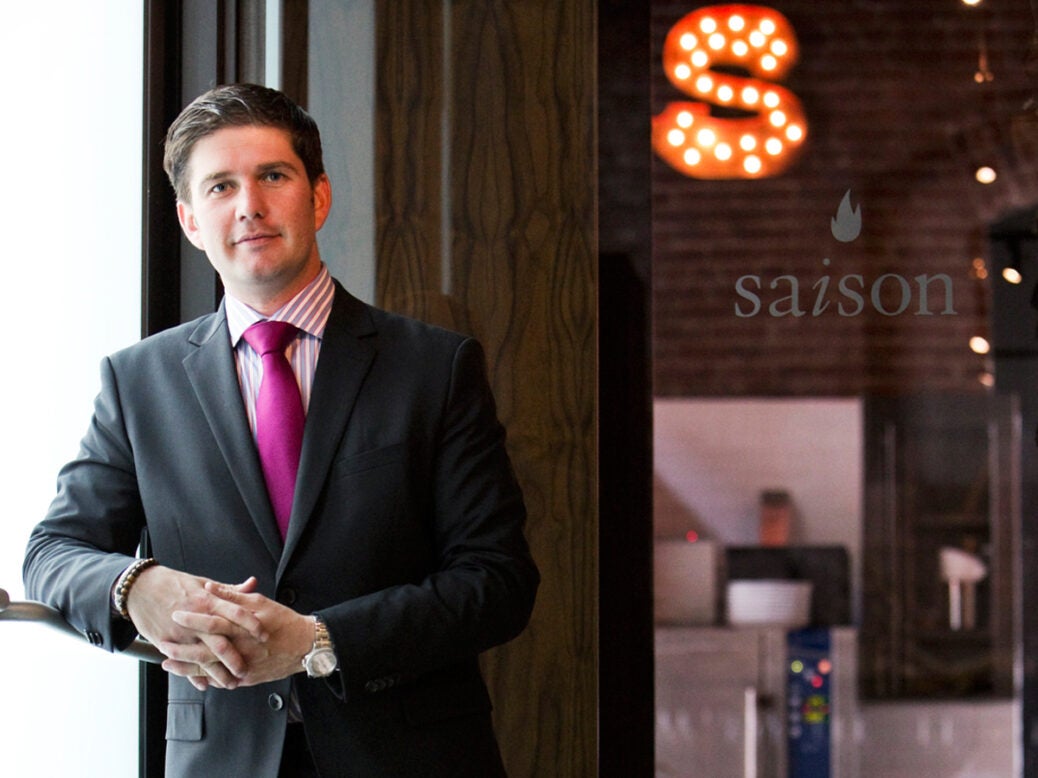 It's safe to say Mark Bright keeps himself fairly busy, fortunately we had the chance to speak with him on his favorite wine regions, San Francisco wine bars worth a visit, and more, including tasting the incredibly rare 1907 Goût Américain Charles Heidsieck Champagne.
Bright is the partner and wine director at Saison, a European-inspired restaurant in San Francisco, CA. Opening in 2008, Saison has a number of accolades to its name including a three Michelin star rating awarded in 2014 and a three-star award in the World's Best Wine lists for two consecutive years. Bright has a wealth of experience since his wine journey began at the age of 15 following a trip to Europe, and has advanced incredibly since. In addition to his work at Saison, Bright founded Bright Wine Fund, a fine wine collection in SF, plus the relaxed dining and educational atmosphere of Les Clos, a wine bar situated just moments from Saison.
What is your favourite part of being a sommelier and being involved with wine in this way?
The ability to find new amazing wines and share them with our guests, and creating a truly great experience that people keep with them for a long time.
Are there any particular wine regions or countries that have inspired you most or most recently? How did they inspire you?
I have always been a Burgundy-driven sommelier, but some of the new regions now are Loire Valley and the resurgence of some amazing AOC's there. Santa Cruz Mountains is also a region that I am finding beautiful wines being made.
What goes into making a three star wine list?
Well, it all starts with the food, then building a balanced and deep list from there. The food at Saison is much lighter and cleaner in style so Burgundy is always an anchor in the list and pairings.
What are your wines of choice during summer?
Champagne, Rosé, Sancerre and Chablis are all at the top of my list. With Chablis, there are many here, but I love Domaine Raveneau, Dauvissat and Thomas Pico, or Sébastien Dampt Chablis premier cru Beugnons 2014. Krug Champagne is always my go-to Champagne. I love the Pascal Cotat Sancerre Les Monts Damnes, whatever is the current and freshest vintage, at the moment it is 2014.
Which restaurants or wine bars do you visit when you are looking for a good list in San Francisco and California?
Zuni, Absinthe, Keiko (for older wines), Bay Grape in Oakland, and Rich Table, for some of the lesser known producers of high quality.
Are there any young sommeliers who you believe will go on to achieve great things?
Robert Serna, Michael Hoefling, and Evan Hufford, who is advanced and has worked with us at Saison and Robuchon, but I think is one of the most talented sommeliers out there right now.
What inspiration do you take from The World of Fine Wine magazine?
I love the publication for its subjects for interviews, it really digs into some of the most respected and fearless leaders of the industry for some real information.
What do the wine awards mean to you?
I think they are amazing and we are always honoured to receive awards, especially those that are elected by our peers of the industry. They do not shape our programs nor affect our decisions on operating or creating our programs. We do what we believe is to be the absolute best experience for the guest, that is the driving factor.
What bottle of wine would you choose to pair with turkey?
Tough question, there are so many preparations! If it was my mother's turkey for Thanksgiving though, to use an example, I would love to drink Clos Rougeard Le Bourg Saumur Champigny 2008, just had this wine recently and it made me think of those family dishes and memories.
What bottle of wine would you choose to pair with beef?
Domaine Jamet Côte Rôtie 1999, one of my favourite wines of all time.
Who do you think is the most influential sommelier ever?
That would be a toss-up between Larry Stone, Rajat Parr and Daniel Johnnes. They have all inspired so many amazing sommeliers; they have trained and sent out into the market all the true leaders of today's industry.
What is your go-to celebratory sparkling wine/Champagne?
KRUG. Period.
What is the best bottle of wine you've ever tasted?
That is so hard to answer, there have been so many beautiful wines that I have been fortunate enough to try, 1962 La Tâche (DRC) is always up on my list, it was the first moment of tasting perfection.
What is the rarest bottle of wine you've ever tasted?
1907 Goût Américain Charles Heidsieck Champagne, brought up from the ship wreckage in the Baltic Sea, doesn't get much rarer than that, and it was pristine.