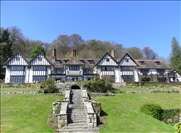 For British lovers of French wine, the Gidleigh Park Hotel in Dartmoor, Devon, has long been a destination. Currently overseen by Master Sommelier Edouard Oger, the 1,300-bin list at chef Michael Caines' two-Michelin starred restaurant remains one of the finest collections of classic Gallic wines in the UK.
The heavyweights of Bordeaux and Burgundy are given the greatest prominence on Oger's list (and with numerous verticals of each region's top producers). But the judges at The World's Best Wine List Awards were equally impressed by the extensive range of producers on show from elsewhere in France: Alsace, Provence and Corsica, the Languedoc-Roussillon, Savoie and the Jura, the Rhône and the Loire, and the various appellations of South West France.
While France, and to a lesser extent Italy, remains the star at Gidleigh Park, however, a significant part of the list now has a distinctly international flavor, from Spain and Portugal to an extensive set of Californians and Australians, and even a choice from Armenia. With English wines also making an appearance, Gidleigh has become a destination for lovers of wine of all styles and regions.