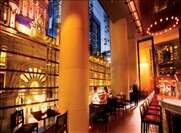 Sydney's Glass Brasserie has a spectacular setting in its perch in the city's Hilton Hotel: a 240-seat dining room with a 13-meter (43-ft) glass wall that overlooks the city's Queen Victoria building. The menu, too, is pretty special: "clean contemporary" dishes from chef Luke Mangan that blend "French technique with Asian influences," as demonstrated in a signature dish such as organic egg omelette of blue swimmer crab meat, enoki mushroom and herb salad, miso mustard broth.
The wine list has a similar feel, blending a number of funky global choices with European classics and a comprehensive overview of the best in Australian wine.
As the judges at the World's Best Wine Wine Lists 2015 put it, this is "a truly mouthwatering list. All the obvious things are there, but so are far less obvious choices. It is very well chosen."
It's a list that is as strong in what the restaurant calls "iconic Australian Shiraz" as the classed growths of Bordeaux, and that offers quirky but quality selections from Croatia, Greece, and Lebanon along with its set of fine Burgundies.