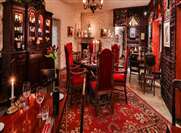 The vaults of Gloria Veinikelder are situated under Tallinn's medieval wall, built in the city's Old Town during the first half of the 13th century
A unique mixture of a restaurant and vinothéque, it offers its guests both gourmet experiences and the widest selection of wines in the Baltic region
Gloria Veinikelder is a place where time stops for enjoyment
In describing the nature of restaurant's food culture, wine cellar hostess, Tairi Morozov says "we don't limit ourselves only to local ingredients, but freshness and quality are definitely our first priorities. We also make sure to add a special and enjoyable touch even to classical dishes".
Besides wines from around 35 countries ageing gracefully on the shelves, a selection of distillates is also incorporated into the collection
The cellar's natural conditions are perfect for storing and maturing wine; the limestone walls of the wine cellar creating an undisturbed temperature of 6°F (16°C) all year round
Added to this is just the right degree of humidity, dimmed lighting, and total protection from any sunlight
Owner and head sommelier Marko Hark, one of the first certified sommeliers in Estonia, has not only been named one of the top sommeliers in his home country, but has also taken part in international competitions.