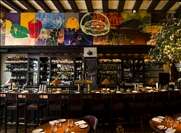 Sometimes a restaurant just gets it. Take New York City's Gramercy Tavern. Now in its 21st year, Danny Meyer's restaurant has been a pioneer in what its publicity material calls, in a nice turn of phrase, the "fierce seasonality" that is current chef-partner Michael Anthony's stock in trade, and which has since been so widely imitated. This is a place where the local ingredient is king, but where it is presented with style.
It's an ethos that won over our judges, who loved the "fair pricing, accessibility and sheer democratic glamour" of a wine list that fits so precisely with Anthony's menu—earning Gramercy Tavern a special Jury Award.
As with all the best places, the wonderfully diverse by-the-glass menu offers a microcosm of the approach: a 3oz taste of rising-star Patagonian Pinot Noir producer Bodega Chacra will set you back $6.50; Thivin's excellent Côtes de Brouilly, $6.75. But the rest of the list, which includes section headings such as Grüner Veltliner and Gamay, as well as Burgundy and Bordeaux, is unfailingly funky and fun, the fruit of a particular palate with a taste for the best of modern wines with an accent on elegance.