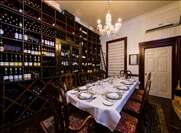 This waterfront restaurant is housed in a plantation era-style Great House built in 1908, and has been running continuously since 1970.
From day one the Grand Old House was the premier seaside restaurant of the Cayman Islands, offering first-class food, ambiance, musical entertainment, service and fine wines.
The exceptional Caribbean and continental cuisine is overseen by longtime chef Thushara Siriwardana, with the menu a seasonal mix of local and imported produce.
Expect a variety of seafood and fish dishes and four to eight specials every day.
The Grand Old House has always paid great attention to its wine and beverage offering.
The solid and classic list offers 2,100 selections, with an inventory of over 16,000 bottles.
It covers all major wine-growing regions of the world with a focus on Bordeaux, Napa Valley and Tuscany for reds; and Italy, California and France for whites.
There is a notable selection mature vintages starting from 1937 and an extensive selection of large formats from Magnum to Melchior.
A highlight of the spirits list is vintage Armagnac dating back to 1893, along with a fine collection of Cuban cigars.