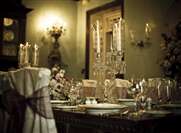 Graycliff Restaurant's cuisine epitomizes elegance in the finest continental and Bahamian tradition with a menu that is both delicious and distinctive and a remarkable wine list.
The secret recipes at Graycliff have set its reputation as the go-to for the glitterati.
Creative culinary innovation has resulted in a variety of sumptuous dishes that is distinctly its own.
Sophistication and refinement have creatively transformed Bahamian dishes earning Graycliff Restaurant an international reputation for fine Bahamian cuisine.