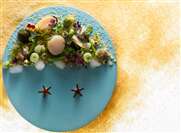 Chef Hajime Yoneda is famous for his commitment to expressing the local terroir, with a style of cooking that blends Spanish, French, and Japanese influences. It's a commitment he takes to extreme lengths in his signature dish "chikyu," a presentation of 110 local vegetables, herbs, and grains. And it's a commitment that also shows up on his elegant wine list.
In a selection that generally aims for the right vintage of a broad spread of producers, rather than deep verticals of the same old famous names, the Hajime list includes an extensive set of Japanese wines, from Osaka's Katashimo Winery Goumeiyama Nanseibatake 2012 to Yamagata district's Château Takeda Cuvée 039 2007. It also features the stunning Pinot Noir and Syrah made by the ultra-fastidious ex-pat Japanese producer, Hiro Kusuda, in Martinborough, New Zealand.
But the bulk of the list is given over to terroir-driven French wines, led by Burgundy and grower Champagne, but also including the likes of René Muré and Marcel Deiss from Alsace, and Domaine du Possible and Domaine de la Grange des Pères from the Languedoc-Roussillon.