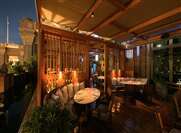 Hakkasan Abu Dhabi opened in June 2010, bringing Hakkasan's award-winning cuisine to the landmark Emirates Palace.
Comprising a restaurant, bar and lounge as well as four private dining rooms, the 16,000 sq ft space is separated by carved wooden screens and latticing that echo the rich interiors of the London flagship restaurant.
Hakkasan's wine team conducts a dedicated tasting session, trying out new wines with at least four different dishes from the menu.
If a wine does not work with one dish—even if it is great with the others—it does not make the list.
In the wine menu there is the addition of story boxes between the pages, which cover topics such as volcanic soil from Santorini, Etna and beyond; ancestral vines of Southern Australia, eastern Mediterranean wines; and recent sommelier visits.