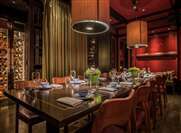 Following the success of its first London establishment, Hakkasan opened a second restaurant in the capital in November 2010: Hakkasan Mayfair, and within a year received and has upheld a Michelin star.
Four of its Hakkasan counterparts from various corners of the world – Hakkasan New York, Shanghai, San Francisco, and Hanway Place London – have all been regulars in the top-tiered recipients in the World's Best Wine Lists, yet for the Mayfair venue 2017 marks its debut. And what a debut it was, receiving a three-star award from the get-go for its stylishly diverse wine list, it is clear the Hakkasan method, with implementation from group head of wine Christine Parkinson, is a good one, and is not losing its charm.
The judges commented that the list was, "eclectic" and "thought-through", applying a meticulous and distinctive approach to its food and wine pairing. A Cantonese menu executed with contemporary flair by a team of chefs, overseen by executive head chef Tong Chee Hwee, encompasses an array of flavors, commonly sweet, spicy, and savory, with which to match the wines. The wine team meets for a weekly wine tasting to ensure every bottle on the menu can be paired with each individual meal – a practice undertaken by the head sommelier Nicola Merighi, floor sommeliers, and more, encouraging a learning environment. The 'Hakkasan way' is one of sharing, therefore this idiosyncratic attitude ensures guests can select a combination of meals, and each wine can be enjoyed alongside them seamlessly.