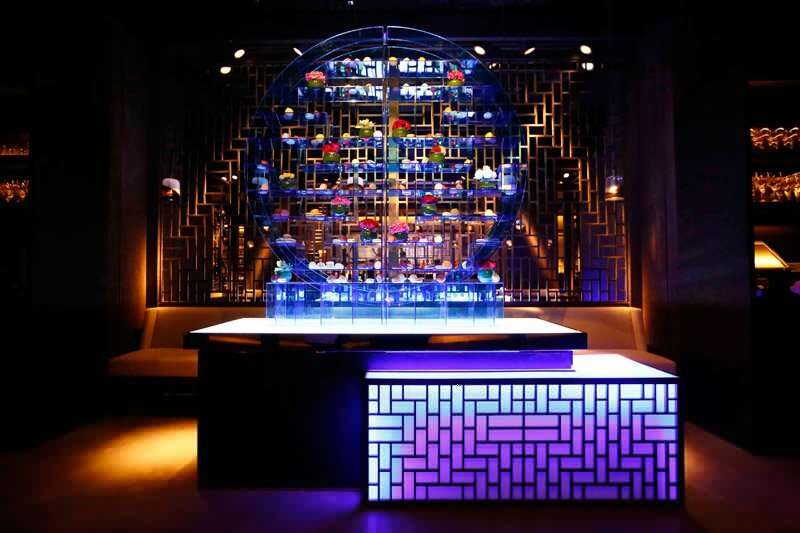 The Hakkasan chain has been showered with accolades during the Awards' five-year history. With views at the Shanghai branch looking out over the city's stunning skyline from its perch in the immensely sought after Bund 18 Building, and in keeping with the other restaurant's chic interiors, this addition to the chain is no less noteworthy.
The modern Asian cuisine can be enjoyed in three different dining spaces in the restaurant. Michelin-starred Tong Chee Hwee has designed the menu here, artfully adapting the Hakkasan dishes to suit the clientele's palate. This has resulted in dishes like cod with Champagne and Chinese honey, crispy duck salad, and jasmine tea smoked Wagyu tenderloin.
Hakkasan puts at the center of its restaurants the art of matching wine with food. The wine list is, as Alder Yarrow puts it, "wonderfully organized, with a graceful design that leads to clarity and contemplation". The wine team at Hakkasan conduct a dedicated tasting session every Tuesday to try out new wines with at least four different dishes from the menu. Their guiding philosophy is a strict one: should a wine not work with one dish, regardless of how it suits the others, it does not make it onto the wine list.
The sommeliers have crafted a wine list showcasing wines from all corners of the globe, from Eden Valley in South Australia to Kamptal in Austria, and an ample selection of Champagne to choose from. Hakkasan Shanghai's signature wines feature a 2012 Chablis 'Domaine Ste Claire' from Burgundy, France; and a 2014 Syrah 'Back Block' from New Zealand's Hawkes Bay. A 'Distinctive Wines' selection directs curious diners to find a grape outside the norm, such as native grapes from Italy's white wine variety and flavors from Hungary.