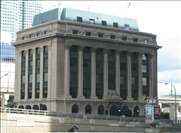 The wine list at this luxurious downtown Toronto establishment is so comprehensive and impressive that one might well imagine it to date back as far as the historic Harbour Commission Building in which the restaurant is situated (1917). Instead, the 1,100 selections have been assembled in a mere 11 years, and the cellar continues to grow "weekly." Guests are quite literally surrounded by wine, all of which is now stored in glass-fronted, temperature-controlled cabinets.
The team at Harbour Sixty prides itself on catering to the very varied needs of its guests, "from quick and casual pregame steaks, to intimate celebration dinners and the corporate deal breakers." In food terms, this means a range spanning smoked salmon and crab cakes, to seafood towers and "the thousand-dollar steak" (Japanese Wagyu). In wine terms, it means an even broader range, from Non-Vintage La Scolca Gavi Brut, to mature Krug Clos du Mesnil and Salon; from Greece, Hungary, Portugal, and Spain, to first-growth Bordeaux, cult California Cabernets, Super-Tuscans, and mature Vintage Ports (of which there are no fewer than 28, stretching back to such legendary years as 1963, 1966, and 1970).
While the 1982 and 1989 Petrus are there for those who are able and willing, the wine staff encourages its guests to be "adventurous," and makes it as easy as possible with 28 wines by-the-glass, its own-label Canadian wines (among many other domestic offerings), and tasting notes on every wine—a very conducive and imaginative feature of this thoroughly satisfying and tempting list.