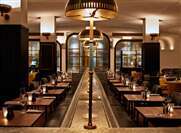 Hawksmoor is made up of 8 restaurants and is known for great steaks.
Hawksmoor Knightsbridge has developed a focussed and diverse list of obscure small producers and big name vineyards alike, vertical selections and a growing natural offering that goes well with its legendary cuts of meat and large seafood selection.
It's also offers over 100 wines by the glass.
In addition to its moorish list, every Monday customers are welcome to bring special bottles from their own cellar for just a £5 corkage fee.